Advent of an era of integrated & seamless Neuromarketing solutions & research
Metaverse Gaming is the new weapon in the hand of Advertisers
Embedded advertisement makes Neuromarketing a compulsion
All large conglomerates are investing big in Metaverse – Google, Meta, Microsoft, Nvidia
NFT tokens & Crypto is expected to remain the choice of transactional currency.
Concerts by big names like Ariana Grande, Justin Bieber in Metaverse
Gucci sold one of its virtual bag for $4000 for an avatar
Believe it or not! We are talking about a $1.5T market by 2030.
Let's divide the article in two parts:
What is Metaverse, Why everyone is talking about it?
What Metaverse has to do with Neuromarketing? Examples & Future research.
PART I
Google announces Immersive view for customers – An advanced quasi -augmented reality version of Google Maps wherein current traffic & live busyness will be overlaid on different structures & spaces. This will give you an instant 3D view of any location in totality (Yugtech, 2022). Apart from everything else, this will give Google access to the missing link – The real time insights on three dimensional actionable by individuals. Till now, it was done in a neuromarketing lab or through intermittent knowledge scrubbing in VR world.
Facebook's (Meta) focus on AR & VR is ubiquitous with $10B investment lined up for Metaverse and changing the parent company name. Microsoft purchased Activision for $68.7B to push for metaverse activities. The essential MS Teams allows you to have avatars as well as create multiple AR based backgrounds, a perfect example of current day Metaverse.
But what is Metaverse?
Metaverse (Meta + Verse: Beyond Universe) is basically a parallel universe wherein people have an alter-ego. The word was first coined in a book named "Snow crash" in 1992 as a work of fiction. As per Report Linker (2022), Metaverse is "an integration of immersive presence in a virtually interactive self-sufficient ecosystem of mobile networks, augmented reality, social media, gaming, virtual reality, ecommerce, cryptocurrency and work environments. This universe is being envisioned as the future of the internet, involving the convergence of augmented reality (AR), virtual reality (VR), and physical worlds in a shared digital space."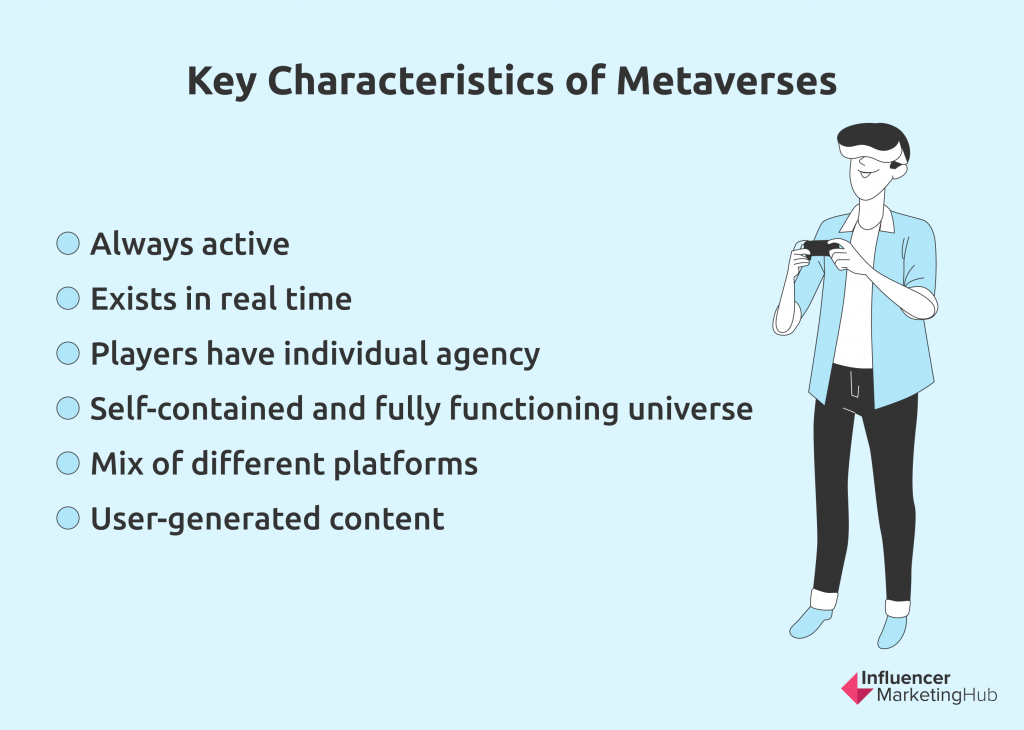 Why everyone is running after Metaverse?
The Metaverse is already a $64B big market which is expected to grow to $1.5T by 2030. Metaverse also means possible restrictions within an environment and at that point of time entry barriers would be extremely high in the absence of seamless movements between virtual environments. While it still has huge data, In future, the metaverse will be the milkyway of customer information, not only on demogs or transactional but enough to predict & control behaviours. Metaverse will be the next big social re-engineering after Internet & Social Media, and thanks to NFT backed transfers, will also become the largest possible marketplace within specific environments. No one want to miss the bus and rightly so.
This all makes Metaverse a great place for marketers to dirty their hands, experiment the way they like and it is possible to provide experiences to customer which was other wise not possible in a remote setup. As per Mileva (2022), Metaverse makes for a huge market with 67% of the users in GEN Z category comprising close to $143B market in US alone. Another study pegs global Metaverse market at $758B by 2026. (Report Linker, 2022b). Another report by CandEN Media Group (2022) suggest that Metaverse gives brand an opportunity to connect in a phygital and much deeper way through unlimited experiences and probabilities.
Metaverse & Video games
From the first VR depicting riding the motorcycle in Brooklyn in 1956 & 1st VR set by SEGA for games in 90s (Marr, 2022), the gaming industry & Metaverse has come a long way today. We are talking about immersive games here wherein the users are continuously adapting, learning, modulating as per the surrounding environment via focus, sensus & locus. Player's avatars are reacting to changes, alterations, and emotions like in real life. Metaverse enhances players interaction multifold opening dimensions never thought possible. Players are now living the avatar life and their emotions are reflecting in their avatars. This coupled with NFT based transactions, minting & exchanges thanks to web 3.0, makes Metaverse & gaming like a match in heaven. As per XR Today (2022), the advance Human Computer Interface (HCI) software & hardware helps take VR gaming to next level. The main advantage of metaverse is the 360* interaction with environment and a mixed reality experience thanks to AR & MR advancement. It also opens social media gaming significantly, and will lead to Games as a platform development with players developing their own verse inside the game with own rules and much more.
Few of the top Metaverse gaming platforms
Epic (Fortnite)
Sandbox (GTA++)
Microsoft (+ Activision)
Meta
Google
Nvidia
Roblox
Niantic
Few of the top Metaverse games
Fortnite
Decentraland
Cryptovoxel
Horizon worlds
Axie Infinity
My Neighbour Alice
Somnium space
Illuvium
The above compilation is randomly arranged and compiled from a host of internet sources.
Metaverse also has huge potentials outside gaming, advisements. Especially in fields like Education, Medical, business proposals & meetings (Microsoft Teams uses AR beautifully by blending background in real video calls).
PART II
How Neuro & Biomarketing comes into picture?
Now this is the most interesting part. Neuromarketing can help the marketers change the universe of sales & marketing as we know it. It is like knowing which lottery ticket is going to be winning ticket and at times even controlling the dices to bring your numbers.
Just imagine the possibilities for the marketers:
Knowing what the customer wants to buy with a certainty
Testing the product before launching in market for high success probability
Controlling the audience choice to divert attention to specific product
Multifold increase in sales & revenue for the marketer
The Priming Effect: Metaverse & Neuromarketing are inseparable due to the priming effect. Any exposure to external stimuli or cues subconsciously affects consumer behaviour & decision later on. Anything and everything your avatar experience, observe, watch, see, or pass through will influence the choice of decisioning, howsoever subtly.
How Neuromarketing achieves this + current challenges & limitations
Recording activities, stimulations, changes in different part of brain, as well as studying the emotional, reactive & cognitive response makes up for most of the Neuromarketing study. The challenge is that this requires complex machines and are mostly done in lab under controlled environment. Apart from this, the current Neuromarketing research techniques are Costly, have limited mobility, may lead to ethical issues, and have certain health implications on subjects . This makes the experiments difficult and with full of complexities.
Here comes the Metaverse
Metaverse helps solve some of these problems thanks to the vast interactive world with interconnected users through social media. A player in metaverse is going through regular reactions, emotions & actions which generally also gets depicted by the avatar actions. By placing the right anchors and cohorts at the right place, time & audience, the brands can gauge all Neuromarketing / Biomarketing pointers.
As noted by Bitbrain (2021), following are the possible usage of Neuromarketing in Metaverse
Brand personality, emotional evaluation to it and its competitors & Brand persona of distinctive assets
A fashion brand may dress your avatar or better still a lot of dummy avatars doing specific task. We are seeing Metaverse fashion weeks on Decentraland. The emotional reaction to that across a large audience set with help brand understand the perceived personality of the brand.

A pizza company may want to place toppings in different colors, anchors, pricing. The result will help in acceptability checks due to gut reaction
Performance, acceptability & recall of brand under different emotional states to evaluate the impact of emotions on the brand
Less cognitive load
With avatars, generally the focus is to reach the next goal in metaverse gaming which lessens the decision paralysis. A simple metaverse game without too many variables or parallel tasks will make the avatar & the player to focus. Once inside the metaverse, the external distractions are minimal which makes the player subconsciously flow into the a world of mixed reality. Post that its the advertisers & marketers arena, they can place ads to boost revenue, test products for packaging, color, and names, get deep insights on customer behaviour, do further deeper neuromarketing research, or become the god (Leonardo Dicaprio in more human form) and incept ideas in the mind of customers (warning: Don't try it, it is borderline illegal and definitely unethical 🙂 )
Real life Metaverse Advertisements & Brand engagements
In CES2022, Samsung entered Decentraland with 837X where Samsung virtual lobby managers guide Avatars to experience products & move to unique spaces to explore. Customers can earn collectible NFT badges & Exclusive collection of Samsung wearables for their Avatars.
Ariana Grande did a full tour in 2021 on Fortnite which was a great success. The tour has got highlighted due to massive profitability for its organizers.
Others singers who have come to Metaverse are Justin Beiber, Travis Scott among others
Gucci took the luxury competition to next level with their Gucci garden on Roblox in May 2021. Gucci Roblox bags & exclusive rare items were sold in virtual space for the iconic fashion brands 100th Birthday.
One of the Gucci Roblox bag sold for $4000 to be used by an avatar in virtual world. Thanks to its intrinsic value, this can be traded also in future
Fidelity stack at Decentraland is probably the first investment broking educational metaverse experience. It gives the brand an immediate connect with the Gen Z customers.
Disney's Virtual world simulator is taking the metaverse experience to a difference dimension. With this metaverse, Disney through a patented AR Hologram technology will bring in elements of virtual world digitally alive without the need for AR glasses.
Nike claims to have tasted super success in its Metaverse entry with close to 13 million views and 7 million unique visits. It gives the brand an opportunity to interact with its customer like never before. The insights are unique
For All the above metaverse experience, link is available in youtube
Neuromarketing: The commonality between these metaverse advertisements
Every advertisement, every engagement in Metaverse is deeply loaded with Neuromarketing tools & pointers. Lets see the above cases in details
Colour: All the advertisements are pointing to real world connections and usage. Fidelity green color matches with brand color. Additionally, it is also used to denote money. This subconsciously makes the engagement stronger and trustworthy. The general color of purple and pink gives the platform an aura of creativity, playfulness, love & compassion.
Scarcity & FOMO: Through Limited period & exclusive NFT promos, the brands like Samsung & Gucci have created a FOMO effect which resulted in more people coming & buying it in virtual world. Gucci is selling virtual fashion line for Avatars as collectibles at a price, premium even to real world.
Eye Gazing: In the Nike ad, generally the kids are looking at you except whenever the Nike logo is coming, the avatar starts gazing on the Logo.
Anchoring: The Ariana Grande music tour starts with Ariana's avatar coming down in shimmering dress which is then followed with the similar wardrobe through out to creates a positive anchoring effect and milking it later on. Similarly, Disney's strategy to keep the Disney world simulator inside a Disney park is points to this strategy.
Social confirmation: A reinforcement that 13M have visited the website with 7M+ unique visitors. Together with brand identity, this gives a huge uplift in usage acceptance. Another upcoming trend is Metaverse influencer and this is going to be another hotbed for Neuromarketing.
With further enhancements and embedding of individualistic emotions and empathy to avatars, the plays of Neuromarketers are going to explode in metaverse. This has the potential to change the martech as we know it today.
References
Bernstein, E. (2017, November 20). Are You a 'Testosterone' or a 'Dopamine?' WSJ. Retrieved May 21, 2022, from https://www.wsj.com/articles/whats-your-type-knowing-can-make-you-a-better-communicator-1511193573
Bitbrain. (2021, February 12). 25+ examples of neuromarketing applications. Retrieved May 19, 2022, from https://www.bitbrain.com/blog/neuromarketing-examples-applications
C&EN Media Group. (2022, April 21). What Does the Metaverse Mean for Science Marketing? C&EN Media Group. Retrieved May 19, 2022, from https://acsmediakit.org/blog/what-does-the-metaverse-mean-for-science-marketing/
Claes, Z. (2014, December 9). 3 Neuromarketing Lessons from Video Games. Neuromarketing. Retrieved May 19, 2022, from https://www.neurosciencemarketing.com/blog/articles/neuromarketing-video-games.htm
Marr, B. (2022, March 23). A Short History Of The Metaverse. Forbes. Retrieved May 18, 2022, from https://www.forbes.com/sites/bernardmarr/2022/03/21/a-short-history-of-the-metaverse/?sh=456a36065968
Mileva, G. (2022, January 21). 6 Metaverse Marketing Strategies with Examples. Influencer Marketing Hub. Retrieved May 19, 2022, from https://influencermarketinghub.com/metaverse-marketing-strategies/
Report Linker. (2022a, February 22). Global Metaverse Market to Reach US$758.6 Billion by the Year 2026. GlobeNewswire News Room. Retrieved May 17, 2022, from https://www.globenewswire.com/news-release/2022/02/22/2389001/0/en/Global-Metaverse-Market-to-Reach-US-758-6-Billion-by-the-Year-2026.html
Report Linker. (2022b, February 22). Global Metaverse Market to Reach US$758.6 Billion by the Year 2026. GlobeNewswire News Room. Retrieved May 19, 2022, from https://www.globenewswire.com/news-release/2022/02/22/2389001/0/en/Global-Metaverse-Market-to-Reach-US-758-6-Billion-by-the-Year-2026.html
XR Today. (2022, March 8). Gaming in the Metaverse: The Next Frontier? Retrieved May 19, 2022, from https://www.xrtoday.com/virtual-reality/gaming-in-the-metaverse-the-next-frontier/
Yugtech. (2022). Google Maps gets Immersive View, Live View features. Https://Www.Yugatech.Com/Software/Google-Maps-Gets-Immersive-View-Live-View-Features/. Retrieved May 17, 2022, from https://www.yugatech.com/software/google-maps-gets-immersive-view-live-view-features/