What is Neobank:
A neobank is a kind of digital bank without any branches. Rather than being physically present at a specific location, neobanking is entirely online. It's a wide umbrella of financial service providers who beseech today's tech-savvy customers. Neobanks can be called fintech firms that provide digital and mobile-first financial solutions payments and money transfers, money lending, and more. Neobanks don't have a bank license of their own but count on bank partners to provide bank licensed services. source: razorpay
Pros
Low costs: Fewer regulations and the absence of credit risk allows neobanks to keep their costs low. Products are typically inexpensive, with no monthly maintenance fees.1
Convenient: Neobanks allow you to do the majority (if not the entirety) of your banking through a smartphone app. In addition to basic banking tasks, you should be able to manage your finances and predict activity in your accounts to prevent problems.
Quick processing time: These tech-savvy institutions allow customers to quickly set up accounts and process requests. Neobanks that offer loans may skip the rigid and time-consuming loan application processes in favor of innovative strategies for evaluating your credit and speeding up the process. For example, SoFi lets you pre-qualify for a loan and see your interest rates within minutes.6
Neobanks don't replace traditional banks for all customers. Some neobanks allow you to link your traditional bank accounts to the neobank so you can enjoy the best of both worlds.
Cons
Requires comfort with technology: You won't be able to take full advantage of the offerings if you aren't comfortable tapping and swiping your way through brand new apps. Some people enjoy exploring new technology, but if you don't, neobanks might not be right for you.
Less regulated than traditional banks: Since neobanks aren't legally considered banks, you might not have any legal recourse or well-defined processes to follow if there's a problem with an app, services, or non-regulated third-party service providers. There may be confusion as to who will be responsible for potential fraud and errors.
No physical bank branches: It's becoming increasingly easy to do everything online, and neobanks often maintain partnerships with ATM networks, but some people want the ability to visit a branch and bank in person. This is especially true when it comes to complex transactions. While many neobanks offer robust customer service tools, some customers may prefer to ask questions in person.
Difference between Digital Bank vs Neo Banks
Digital banking usually refers to a bigger player in the banking industry providing financial services in a traditional way. Neo banks are 100% digital and do not relate to any traditional banking names, big or small.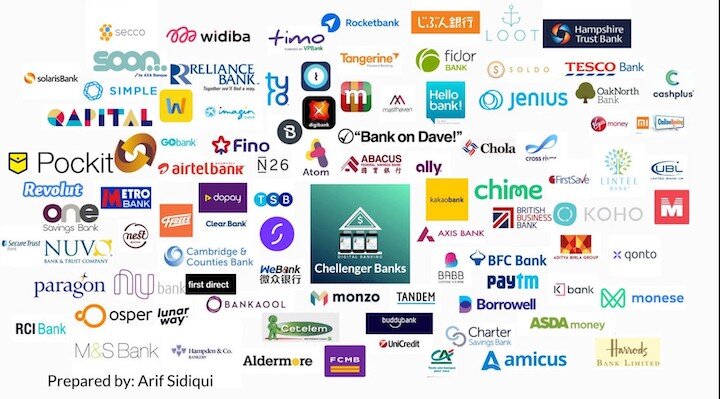 Canada: The Department of Finance launched a separate Advisory Committee on Open Banking to gather information on how to drive necessary changes for growth;
Australia: Despite not having PSD-type regulation, the country has still made strides for banks to open access to accounts and data by end of February 2020, and debt-type accounts (e.g. personal loans, mortgages, other asset-based financing) by July 2021;
United States: Having multiple agencies highly regulating banking at both state and federal levels, innovation from non-bank financial service providers has sputtered. The Securities and Exchange Commission (SEC) is the leading agency responsible for the majority of regulatory enforcement, with other responsibilities monitored by the Financial Crimes Enforcement Network (FinCen) and the Office of the Comptroller of the Currency (OCC). Large banks have taken the lead in forming independent groups to review revisions for open banking, but have no impulse to make changes quickly;
Europe: THE pioneer in open-banking, Payment Services Directive (PSD) and its 2nd amendment (PSD2) were landmarks introduced in November 2015. With established standards for an ecosystem of regulation, infrastructure, and authorizations favoring 3rd-parties, there were no early barriers to open banking;
Africa: Due to the critical need for the industry to have widespread, mobile-based reach in underserved and remote areas, national regulation has impacted both telecommunications and financial services. Nigeria (and other neighboring countries) launched an Open Technology Association to develop API standards for open banking;
Asia: Hong Kong's monetary authority released reporting on open APIs for the development of an open banking ecosystem. Also, Japan has made several revisions to banking laws in 2017 that will require collaboration between banks and fintechs using APIs, by end of 2019;
Mexico and Latin America: Mexico passed FinTech laws requiring banks to create open APIs. In South America, Brazil and Chile have also developed new rules for open banking;