Today, consumers have the joy of digital experiences when banking. Regulation ensures that this experience happens in a secure and private way.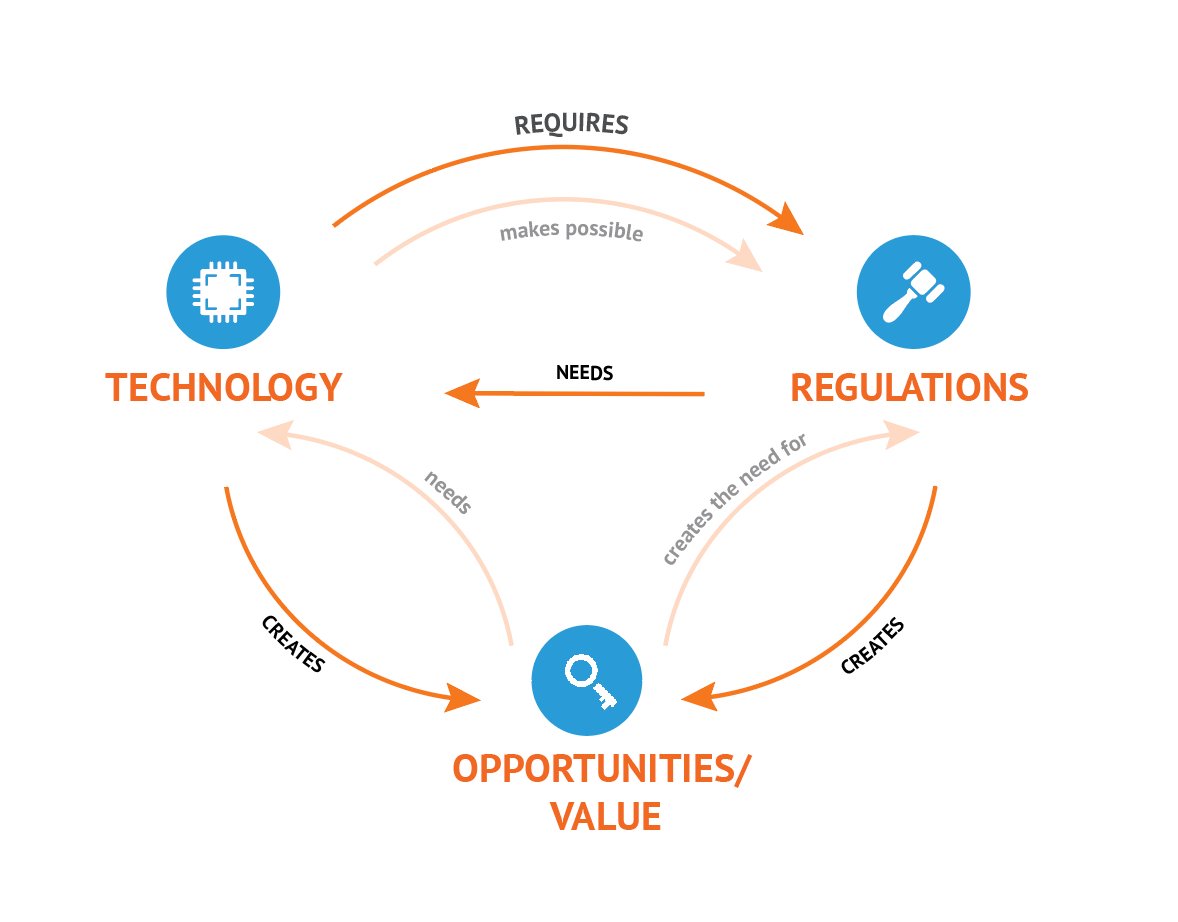 What is RegTech
The term RegTech was first coined by the UK's Financial Conduct Authority(FCA) in 2015 who called it: "A subset of fintech that focuses on technologies that may facilitate the delivery of regulatory requirements more efficiently and effectively than existing capabilities." In simple terms it refers to any technology that ensures companies comply with their regulatory requirements. source: EQS.com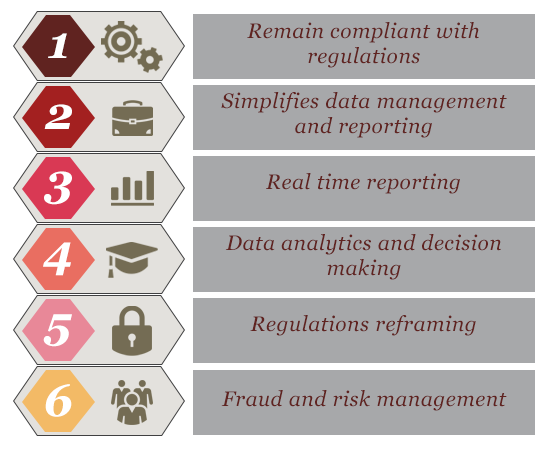 Current legacy solutions used by banks are ill-fitted to meet the stringent requirements increasingly implemented by regulators all around the world. RegTech is a seamless way for banks to meet these requirements, without the need to overhaul their existing models entirely. RegTech is poised to be the future of facilitating compliance management and minimise regulatory risks.
Need for RegTech
source: pwc The Financial Service sector has long been replete with regulations. In an attempt to reduce the vast and ever-increasing burden of these regulatory terms, financial institutions are starting to turn to new technology solutions. Around the world, regulatory changes in the financial sector is increasing at a staggering rate. Coping with the sheer volume of new regulatory changes imposes high complexity and stringent timelines upon financial institutions. Over the past decade, regulators have asked financial institutions to undertake several modernisations on their businesses and many of the organisations have struggled with regulatory-driven transformations. Regulatory Technology (RegTech) established a solid foundation within the FinTech ecosystem to overcome this and come up with solutions that are targeted to new and complex regulations, litigation and regulatory remediation areas faced by financial institutions (FI), combined with overall reduction in cost compliance. There are more than 1600 companies worldwide, providing a variety of solutions and services to support other businesses with their compliance needs. Most of these firms help in compliance with regulations such as PSD2, MiFID II, 4MLD and GDRP.2 And most of these RegTech solutions are available for consumption using open APIs and SaaS models.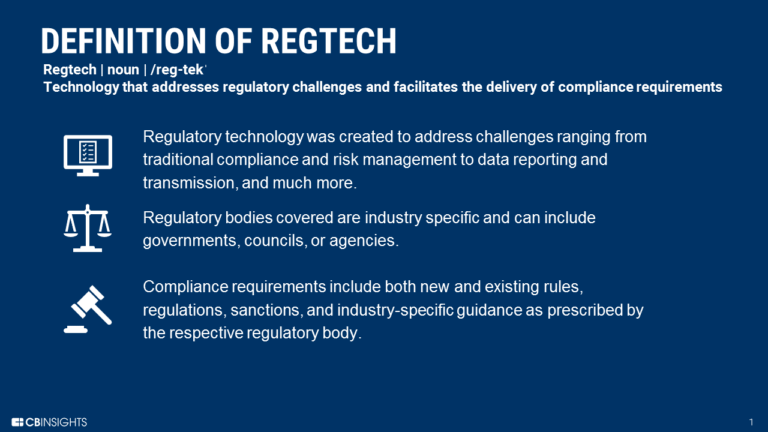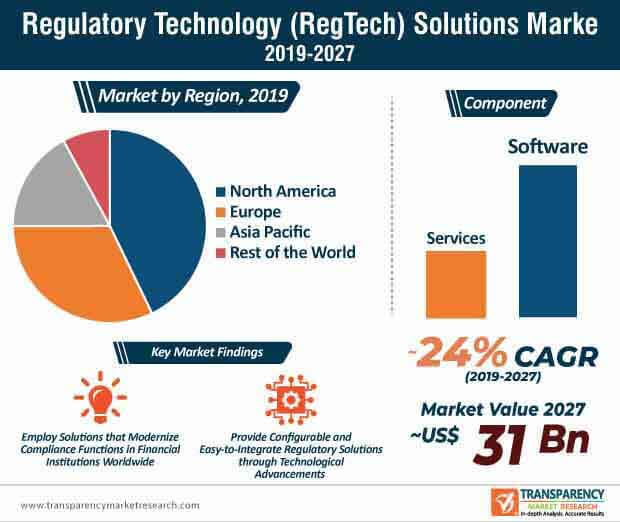 China is the most attractive market in Asia Pacific. The incremental opportunity is significantly higher for China, as it accounts for a dominant share of the regulatory technology (RegTech) solutions market in the region.
The regulatory technology (RegTech) solutions market in North America is anticipated to expand at a rapid pace during the forecast period, followed by Europe. North America remains the leading market for regulatory technology solutions, with revenues in 2019 estimated at US$ 2,400.7 Mn.
The global regulatory technology (RegTech) solutions market is expected to reach ~US$ 31 Bn by 2027 from ~US$ 5.6 Bn in 2019, expanding at a CAGR of ~24% from 2019 to 2027 
Emergence of cloud-based regulatory technology solutions is expected to facilitate growth of the regulatory technology (RegTech) solutions market during the forecast period
The regulatory technology (RegTech) solutions market in Asia Pacific is projected to expand at a high CAGR during the forecast period. Adoption of cloud-based regulatory technology solutions by large enterprises and small and medium scale enterprises has propelled the demand for regulatory technology solutions in this region.
REGTECH FOR FI VS REGTECH FOR REGULATORS (SUPTECH)